Over a quarter of van drivers have tools stolen from their vans
01 March 2022
Tool theft isn't a new issue, but it continues to plague tradespeople. The consequences of these kinds of losses are devastating for builders who are often forced to delay their work until replacement tools are available, leaving them with no income and the additional risk of losing out on new projects. 
The issue is so severe that in 2021, Conservative MP for Buckingham Greg Smith proposed new legislation in parliament that would force online marketplaces and auction sites to include the serial number as part of the description of any tool that's for sale on its sites. Mr Smith said:
"The authorities could then search against stolen items, and identify illegal sales," he explains "It would then, of course, be beholden on builders to make sure that they have recorded the serial numbers of any tools they own, and for these to be recorded by the police when the crime is reported – and subsequently stored on a database – but it would have the effect of introducing a degree of traceability into the system. There could even be procedures in place where these online platforms are being continuously searched for stolen items for sale." 
Unfortunately, the private members bill was not taken forward by parliament. 
A survey by Volkswagen Commercial Vehicles (VWCV) found that a quarter of van drivers (27%) have been targeted by thieves stealing tools from their vehicles. More than half (57%) of drivers admitted leaving tools in their van overnight, and almost a third hadn't introduced extra security measures to protect their kit, such as secondary locks or vehicle trackers. 
On average, 20,000 cases are reported to police forces across the UK each year, with the estimated cost of replacement tools and equipment standing at £15 million a year.  
David Hanna, head of sales operations at Volkswagen Commercial Vehicles, said:
"Tool theft costs van drivers millions in buying new kit, but also impacts their ability to do their jobs, further impacting their finances." 
VWCV found that London was top of the list of tool theft (55%) followed by the West Midlands.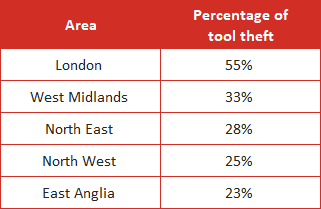 Source: Volkswagen Commercial Vehicles
London - the country's tool theft hotspot
Research by London plant hire specialist Herts Tools shows there were 28,338 tool thefts reported across London between January 2019 and May 2021 – approximately 32 incidents a day! Barnet, Enfield, Ealing, Waltham Forest, and Haringey are the five boroughs where figures were highest, with 1,917 thefts in Barnet accounting for nearly 15% of the total. The research showed that thieves are 10 times more likely to steal powered hand tools than non-powered hand tools, with 32,067 taken from 2019 to 2021, compared to 2,993 non-powered hand tools, and only 1% of those power tools were recovered.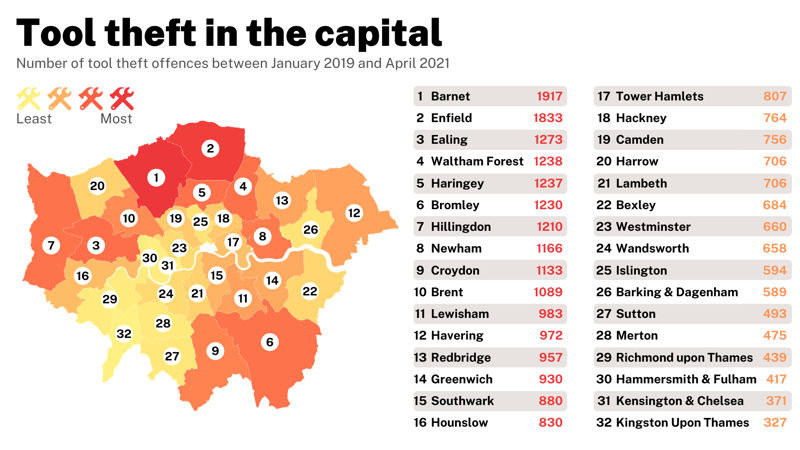 Source: Herts Tools Co
Tool theft: Reduce the risk 
Most thieves are opportunists, so additional security measures can help reduce the risk of theft:   
Document your tools: Keep and store all receipts (safely away from your tools), take photos and keep a record of their serial numbers to ensure they are traceable for the Police and to ensure insurance claims are processed quickly.  
Install anti-theft products on your van, such as an immobiliser or tracker, so that thieves cannot simply drive your vehicle away.  
Secure your vehicles with window grills, remove items from view and, if possible, fit a tool safe in your vehicle or property.  
Ensure you have comprehensive tools insurance and if the alarm on your vehicle doesn't comply with the security conditions of your policy, take your tools to work and remove them from the vehicle while you're at home.  
Always try to park in busy, well-lit areas, or a garage, with the side load door and rear doors against a wall to restrict access.  
The Tool Watch App is a secure platform for tradespeople to register their tools with receipts and serial numbers. Storing essential information will ensure tools are traceable and will also help fast-track insurance claims and minimise the number of working days lost.   
Engrave personal information directly onto the tools.  
Remove batteries and charger: Used battery-powered tools aren't as lucrative for thieves if they don't include the battery and charger.   
Invest in lockable power tools with apps: The newest professional power tools can be disabled through a smartphone app. Once locked, the tool is worthless. Milwaukee, DeWalt, and other professional tool brands have trackable and locking features. 
Tips for making an insurance claim 
If you are targeted by thieves and need to make a tools theft claim, then here are some tips to streamline the process:  
If your tools are gone, and there are signs of forced entry to your van or workshop, take photographic evidence to share with the police and your insurance claims handler.  
Provide copies of receipts, photographs, and serial numbers for the stolen tools.  
Report tool theft to the Police immediately, who will give you a Crime Reference Number (CRN), which you need to pass on to your insurance claims handler. 
Trade Direct is authorised and regulated by the Financial Conduct Authority. The company is a leading UK independent broker providing a wide range of policies to tradesmen and construction workers.
This note is not intended to give legal or financial advice, and, accordingly, it should not be relied upon for such or regarded as a comprehensive statement of the law and/or market practice in this area. In preparing this note we have relied on information sourced from third parties and we make no claims as to the completeness or accuracy of the information contained herein. You should not act upon information in this bulletin nor determine not to act, without first seeking specific legal and/or specialist advice. We and our officers, employees or agents shall not be responsible for any loss whatsoever arising from the recipient's reliance upon any information we provide herein and exclude liability for the content to fullest extent permitted by law.